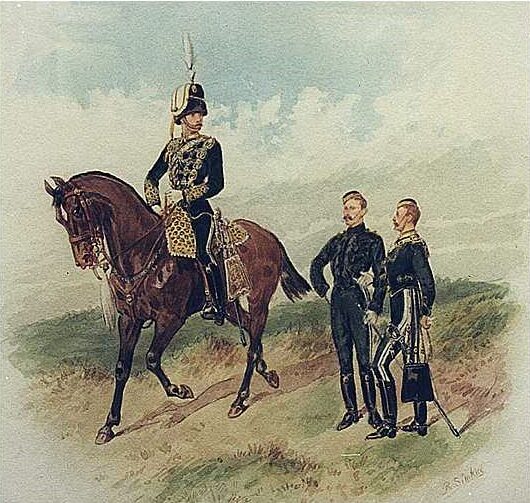 BORN IN 1852
---
A traditional
handcrafted Irish Gin
steeped in history
---
John Henry Watson was born in 1852 at Ballydarton House. His father, Robert Gray Watson, was one of the most famous and longest-standing Masters of Foxhounds in the British Isles of the 19th Century. John followed in those footsteps with a notable Mastership of the Meath Hounds succeeding the Earl of Fingal, from 1891 until his death in 1908. Both John and his father played in the first Polo game played in County Carlow in 1872.
The Silver Spear
and John Henry Watson
---
John Henry soldiered in India with the 13th Hussars Light Cavalry Regiment, based at Lucknow. He held his Commission from 1873 until 1883. The Regiment secured the rear guard during the march back, following the Relief of Kandahar. There he played Polo, won the Silver Spear and won the Grand Military Steeplechase of India and no doubt enjoyed his Gin and Tonic.
WON IN 1884
---
The Father
of the Game
---
After returning to Ireland, he formed his celebrated "Freebooters" Polo team to capture the All Ireland Cup in 1884; a trophy he went on to win 9 times. John Henry earned his sobriquet as "The Father of the Game," when he drew up the Rules of Polo for the Hurlingham Club and invented the back-hand stroke.
CAPTAIN IN 1886
---
The Father
of the Game
---
In 1886, JHW captained the British team who went to Rhode Island, USA for the inaugural international against the United States, soon to be known as the Westchester Cup. Britain won and then retained the cup in the re-match of 1890. Watson suffered a heart attack in his last game in 1905. Another player caught him as he fell from his pony. He died at his home in Bective in County Meath, Ireland, 3 years later.